Trade Race Manager
Trade Race Manager
Trade Race Manager is where trading meets gaming, the two most successful parts of the whole crypto sector. Revolutionary Play2Earn& free-to-play game with NFTs
Play the Game

Play the Game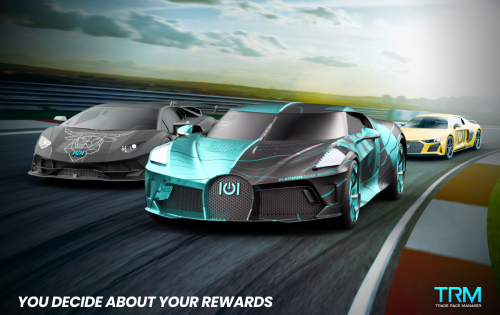 Trade Race Manager Description:
The NFT play-to-earn game Trade Race Manager changes people's lives. The majority of the players earn enough $IOI to have a stable monthly income. Players earn tokens just by playing!
In Trade Race Manager, players can choose between two game modes to compete against other players. In the unique gameplay containing elements of trading and crypto, you can show off your skills to other players.
Trade Race Manager is running on a Polygon blockchain and each Car and Racer is an NFT (non-fungible token). You don't need to have prior knowledge of blockchain and NFTs. You can learn about this technology by playing the game.
Investment is not necessary and you can start earning right away. If you win a race you will be rewarded in form of "IOI" which is a cryptocurrency token that can be used to trade, buy NFTs, or stake in the QORPO Wallet to get rewards.
QORPO behind Trade Race Manager game is building the most complete ecosystem in the NFT universe. QORPO already have three live products Trade Race Manager, QORPO-Wallet and NFT Marketplace called QORPO Market.
The upcoming products in 2021 & 2022 are CyberTrade (NFT based game build in full 3D Unity engine - Dominate the city in this revolutionary Play2Earn NFT metaverse with your crime syndicate and become the Boss of all Bosses) and crypto-trading platform.
SIMILAR DAPPS YOU MAY LIKE
Trusted By
wo