Published April 23, 2022
|
6 min read
Best Altcoins Under 1 Cent in 2022
More than 12,000 altcoins are represented on the cryptocurrency market. Most of them cost just a couple of cents. However, many of them have great potential for future investments. You may spend $100 on the cheapest altcoins now and become a millionaire in a month. Who knows what the future holds. Our experts have reviewed the best altcoins under 1 cent to shed light on the topic.
What Is Altcoin Under 1 Cent?
Under a penny, altcoins are digital currencies that cost less than a dollar. There are thousands of them. Due to the low price, potential investors rarely pay attention to them. Some businessmen invest in these altcoins for fun. However, this is a great way to diversify and expand their investment portfolio for many investors.
Why Is It Profitable to Invest?
It may be profitable to invest in cheap altcoins. However, no one can be sure in advance that this type of investment guarantees any profit. The cryptocurrency market is very volatile. You never know which cryptocurrency will jump in price tomorrow. Still, investors take risks and invest in cheap cryptocurrencies because of their great amount on the market. As traders like to say, "Buy cheap altcoins, keep calm, and HODL even when the price decreases."
How to Find Such Altcoins
There is no single and proven strategy for finding the best altcoins under a penny. However, our experts have prepared some tips potential venture capitalists should consider while finding prospective altcoins.
Perform research and study the current market value of a chosen altcoin, its history, developers, and price projections.
Check the number of coins. The minimum number should start from 10 million coins.
Explore whether a coin is accessible in the currencies available for trading on cryptocurrency exchanges.
Carefully track the history of price fluctuations over the past month for the chosen altcoin.
Search for investors who have already purchased cheap altcoins and try to find out why they consider investing in them.
Best Altcoins Under a Penny
It is not that easy to identify the best altcoins under a penny due to their great diversity. Hence, our cryptocurrency experts have surfed the market methodically to find the most prospective coins for earning some profit. Please look through the list of the top 6 cheap altcoins below. All the financial figures are presented as of the end of February 2022.
SHIBA INU (SHIB)
The Shiba Inu token runs on the Ethereum blockchain. Its popularity jumped in 2021 due to its unique ecosystem and dog theme complemented with speculation by retail investors and fueled by the active participation of the coin community. Shiba Inu, Dogecoin, and hundreds of other crypto-assets based on memes or inspired by pets are known as meme coins.
Launch date: 2020
Market cap: $14,072,921,720
Price: $0.0000252
Circulation supply: 549,063,278,876,302 SHIB
BitTorrent (BTT)
BTT is an exchange protocol that has gained momentum quickly. The protocol serves to change the way how consumers receive any content. This coin helps consumers speed up the process of sharing music, videos, documents, and other files in an alternative way. BitTorrent altcoin encourages users to support the file distribution in the system. For example, the owner gets a small number of coins for storing a movie on a PC.
Launch date: 2021
Market cap: $1,833,417,274
Price: $0.000001958
Circulation supply: 932,497,500,000,000 BTT
HOLO (HOT)
Holo is a digital coin of the Holochain platform, which enables data storage and distribution on P2P platforms and social networks. The Holo network is part of the Holochain ecosystem. It consists of nodes and users who can post their apps on the network and get paid for it. HOT is now considered one of the best altcoins under 1 cent for profitable investment.

Launch date: 2018
Market cap: $781,636,430
Price: $0.004522
Circulation supply: 173,208,990,225 HOT
Dent (DENT)
DENT Coin is a new cryptocurrency that promises to disrupt the world's mobile data industry. It is a universal currency for data markets. The developers of the DENT coin aim to influence mobile service providers and obtain better conditions for global data transferring.
Launch date: 2017
Market cap: $246,769,681
Price: $0.002491
Circulation supply: 99,007,791,211 DENT
SafeMoon (SAFEMOON)
SafeMoon is a decentralized finance token. It runs on the blockchain of the Binance Smart Chain. The key goal of launching the token and the overall SafeMoon project is to solve the lack of liquidity in the financial market. The project also addresses the issue of the negative impact of traditional mining on the environment.
Launch date: 2021
Market cap: $852,793,757
Price: $0.000001456
Circulation supply: 585,536,366,402,812 SAFEMOON
PotCoin (POT)
PotCoin is a secure digital cryptocurrency aimed at facilitating transactions in the cannabis industry. In addition to functioning as a wallet for consumers, PotCoin offers a decentralized banking infrastructure and payment solution.
Launch date: 2014
Market cap: $1,368,220
Price: $0.006017
Circulation supply: 227,395,375.28 POT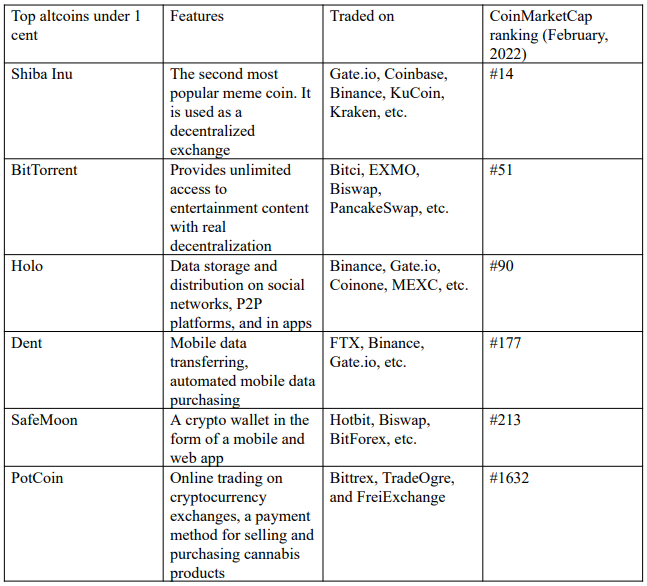 Why You Should Try to Invest in Altcoins
Because it is projected to be a valuable option for long-term investments. The market share of altcoins is over 61% now. That is why investors have more options in selecting a promising token. If you are lucky enough, you will be able to find something precious like Bitcoin and become a billionaire at almost no cost.
How to Get Profit with Top Altcoins Under 1 Cent in 2022
Altcoins under 1 cent in 2022 are thought to offer good opportunities for receiving profit. Smart investors consider the following options for getting recurring income from putting their cash into cheap tokens:
Plenty of cheap coins are available. So, it is a great opportunity to accumulate a massive amount of altcoins for next to nothing.
Investing in cheap digital currencies allows expanding an investment portfolio greatly. You have almost nothing to lose, but you can reap huge benefits in the future.
Both promising startups and unicorn companies have already turned their attention to cheap cryptocurrencies. Therefore, far-sighted investors have begun to buy cheap coins hoping to hit the pot ASAP.
Market Capitalization vs. Coin Price: What Is More Important?
Market capitalization is a more important indicator for investors than an altcoin price. A coin price simply shows the current value of a chosen cryptocurrency. The market cap indicator shows its overall potential. It tells investors whether it is worth purchasing compared to other coins.
Pros & Cons of Best Altcoins Under 1 Cent
Investing in the best under a penny altcoins has benefits and drawbacks. We have summed up the most common reasons according to investors' feedback.
Pros:
an abundance of coins to select from
possibility to accumulate plenty of altcoins at almost no cost
a good variant to diversify an investment portfolio
some utility tokens will surely jump in prices according to the crypto market statistics
an attractive option to get a recurring income
Cons:
no 100% guarantee to get a profit
a very short lifespan of a considerable number of cheap altcoins
Conclusion
Now you have the list of the best altcoins under 1 cent with potential for a price increase. Our review has provided you with vital info on such coins. So, it is up to you which altcoins to invest in. It can be both a risky and triumphant adventure. It is necessary to study the market trends and the history of a chosen coin before deciding on any type of investment. To start with, try to invest not more than you can afford to lose. Good luck!
Frequently Asked Questions
What Is Altcoin under 1 Cent?
An altcoin under 1 cent is a coin with a price lower than a dollar. The best altcoins under 1 cent are thought to be a promising type of investment in 2022.
How to Find Altcoins under a Penny?
A consumer needs to study the current market value of a chosen altcoin, its history, developers, and price projections.
Why Should You Try to Invest in Best Altcoins under 1 Cent?
Because it may have great investment potential. You never know which digital currencies skyrocket in value and which one has no prospects until you try to invest your money.