Published February 10, 2022
|
5 min read
NFT on Polygon: Why You Should Pay Attention to Them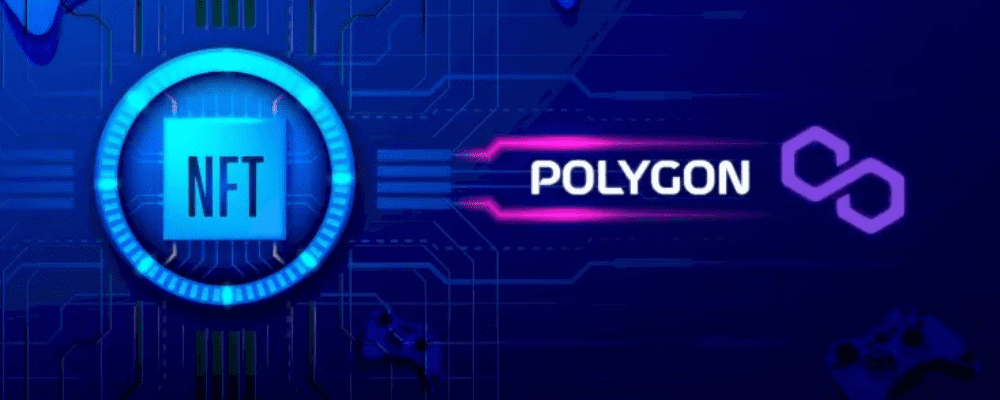 NFTs have taken the digital world by storm when the Ethereum blockchain started supporting this new standard of tokens. While Ethereum was the pioneer in endorsing NFTs, there are newer and more accessible solutions for buying and selling them. Polygon (previously known as MATIC) is a convenient framework that brings together various networks working with Ethereum. More creators are now considering placing NFT on Polygon thanks to its benefits.
What Is Attractive About Placing NFT on Polygon?
Polygon NFT platform is an attractive solution for all crypto enthusiasts due to both similarities with Ethereum and differences between them. Polygon is a layer two protocol, which has the main goal of making NFTs more accessible by skipping gas fees, which are so high at Ethereum. In addition, the user interface of Polygon is truly great, and many experts consider it the best. Thanks to the layer two features, Polygon enables incredible scalability for its NFT projects.
Features
As an NFT supporting platform, Polygon offers some efficient features for its users:
ETH compatibility. Being a part of the ETH ecosystem, Polygon can connect to and fully benefit from working with other Ethereum-based frameworks and platforms.
Scalable solutions. Your NFT marketplace will be able to conduct numerous ETH transactions simultaneously.
High security. The latest security protocols enabled at Polygon protect each transaction and make it safe from any hacker attacks, etc.
This is an interoperable and modular network, which allows interacting with other blockchains, incorporating upgrades easily, and providing diverse customizability and functionalities.
Is It Worth Minting NFT on This Marketplace?
Polygon is considered a great option for minting NFTs based on several reasons. While issuing NFTs with OpenSea using Polygon, you can benefit from cheap and even free solutions. There is a specific period of time during which you can trade or auction an NFT on Polygon completely for free. Unlike with Ethereum, you can save up a lot of money on gas fees.
How Much It Costs
It depends, but the cost of minting NFTs at Polygon varies from being absolutely free to 0.1 or 0.5 dollar. In comparison with Ethereum or other platforms where gas fees are often higher than the value of NFT itself, this is a great deal.
How to Buy NFT on Polygon
First, you will need to choose an NFT to purchase. If you are looking for the best NFT to invest in, Polygon Punks, Zed Run, and Aavegotchi might interest you. You can see all available Polygon NFTs on the OpenSea Explore tab. There, you will need to filter NFTs by chain to see Polygon options only.
After choosing a token to purchase, you can click on it and either place an offer or buy it right away. To buy NFTs from OpenSea, you should connect your Polygon wallet with ETH. Complete the checkout and sign your purchase. After that, the NFT bought will appear in your collection.
How to Use This Marketplace for Selling
The NFT marketplace Polygon is becoming more popular among NFT creators every day. Even though this framework is also based on Ethereum, it is more accessible than ETH.
Creating An NFT
NFT creation is the first step to earning money with these tokens. For example, you can create a drawing or take a photo and use this file as your future NFT. Upload the image to an NFT marketplace and fill in all the information about it.
Selling
After uploading your NFT and providing all the requested info, you can put it up for sale. It is up to you to define the price of your token, the amount you want to supply, and whether you want to sell it for a fixed price or start an auction. All of these features can be set up while uploading an NFT via the "Add Item" feature on the site.
Attracting Investors
It is crucial to make your NFT visible for potential investors to find it and place an offer. You can promote your tokens by sharing them on social media or investing in SEO services. This is a great solution, as you will be able to attract organic traffic and potential investors with professional SEO help.
Best NFT Projects on Polygon Marketplace
There are currently more than 100 million NFT projects on Polygon. This is a nice selection, and you will surely be able to find some interesting offers with great potential. As of now, some of the most popular Polygon NFT projects are Bored Ape, CakedApes, Meta Myth, ZED RUN, and Screw Me Up.
About Polygon (MATIC)
Polygon is a project formerly known as MATIC. It is a solution for improving the scalability of blockchain networks. The main goal of this framework is reducing expenses on gas and other costs, as well as increasing the speed and convenience of transactions between different networks. It is an Ethereum-based platform, which joins together numerous decentralized apps. These apps offer gaming, trading, and financial services of different kinds. NFTs play a prominent role in this ecosystem.
Actually, this is a layer two network, which has a primary level of Ethereum. Polygon or MATIC is essentially an add-on to ETH, which seeks to simplify various solutions and make them more efficient. It is great for building networks and combining them into complex ecosystems. Polygon tries to improve Ethereum by making it even more stable, secure, scalable, and efficient.
Pros and Cons of Polygon NFT Marketplace
The main pros of Polygon NFT solutions are reduced prices in comparison with Ethereum itself. All services from minting to buying and distributing NFTs are much cheaper and more accessible with Polygon. Putting an NFT up for sale is free of charge, which is great when gas prices are so high.
Currently, there are no real disadvantages. The only con is temporary, as Polygon is still not as popular and hype as Ethereum. Nonetheless, it is a high-quality alternative, especially if you are a beginner. Those NFT sellers who are at the beginning of their journey will definitely find it infinitely easier and more affordable to sell and collect NFTs on Polygon.
Frequently Asked Questions
Іs Polygon NFT Marketplace Good for Sellers?
Yes, Polygon NFT Marketplace is one of the best tools for NFT sellers in past years. This platform offers cheaper solutions if compared to Ethereum, and certain features are even free of charge. Polygon makes NFTs more accessible for buyers, which is why sellers should pay attention to this blockchain.
How to Buy NFT on Polygon?
To purchase NFTs on Polygon, it is necessary to open a reliable NFT marketplace that runs on this blockchain. OpenSea is a top-quality NFT marketplace where you can find Polygon tokens. Simply select an item you want by choosing NFTs with the Polygon logo. Then press "Buy Now" and purchase your NFT with ETH.
How to Sell NFT on Polygon?
In order to sell your NFTs on Polygon, you will need to create an image or a photo and place it for sale on one of the marketplaces. With OpenSea, you can sell NFTs via Polygon easily. Click on the "Add Item" button on OpenSea, upload your picture, choose the Polygon blockchain, and click on "Create" to release your NFT.